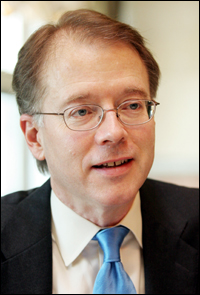 Henry M. Seggerman
President
International Investment Advisers

By Henry M. Seggerman
President of International Investment Advisers

Several years ago, a Korean company, LG Investment & Securities, bought a Polish company, Petro Bank, then sold it a few years later for a handsome 50% profit. Around the same time, another Korean company, SsangYong Cement, bought an American company, Riverside Cement, and eventually sold that one for a staggering 250% profit.

LG Securities did not give back its profit to support the Polish economy, nor did SsangYong give back its profit to support the American economy. No, they took the profit they earned fair and square and returned it to their own shareholders in Korea. LG Securities and SsangYong Cement are in the business of returning profit to their shareholders. All business transactions they conduct anywhere in the world are for the purpose of returning profit to their shareholders. Ideally, they like to "buy low" (by lowballing the seller) and "sell high" (by hyping the goods). This applies whether they are buying heavy equipment to process cement or buying and selling foreign companies. This applies whether an acquisition remains with the company for five long decades, or for just five weeks. Korean companies are in the business of returning profit to their shareholders. Korean companies are not in the business of foreign charity.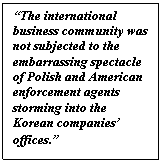 Most importantly, when LG Securities and SsangYong Cement took their hard-earned profits back to Korea, the international business community was not subjected to the embarrassing spectacle of Polish and American enforcement agents storming into the Korean companies' offices, desperately trying to trump up transparent and ridiculous charges, in order to expropriate those hard-earned profits in part or in full, Mugabe-style.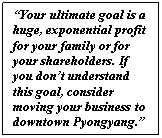 When Korean individuals or institutions invest in the stock market, they, too, do so in order to make a profit for their families or for their shareholders. They, too, like to "buy low" and "sell high." This strategy applies to staid, long-term, low-turnover, holders of the most boring energy stocks, as well as to the demented online day trader who buys a stock at 9:00:05 and then sells it at 9:12:46. Making a profit from an investment is normal. Making profit from an investment requires that you sell that investment. Selling an investment profitably is not speculation. Selling an investment profitably is the goal. Your ultimate goal is a huge, exponential profit for your family or for your shareholders. If you don't understand this goal, consider moving your business to downtown Pyongyang.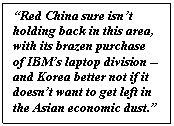 Between 1999 and 2002, Korea enjoyed GDP growth rates mostly between 6% and nearly 9%. Those who would like to see strong economic growth for Korea, those who want Korea to avoid economic stagnation, naturally want Korea to make aggressive and profitable foreign corporate acquisitions a dynamic part of Korea Inc.'s plan of attack. Hopefully, there will be a lot more profitable deals like Petro Bank and Riverside Cement going forward. "Red" China sure isn't holding back in this area, with its brazen purchase of IBM's laptop division -- and Korea better not if it doesn't want to get left in the Asian economic dust.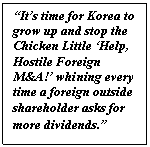 Naturally, everything above should apply equally to foreign companies which invest in Korea. These companies are not charities. Like LG Securities and SsangYong Cement, they make investments in Korea in order to return profits to their shareholders, who are (shockingly) outside of Korea. So if Korea has any interest in being part of the real world, it will acknowledge the simple reality that cross-border corporate acquisitions are normal profit-driven business activities like any other, and that is unlikely to change any time soon. It's time for Korea to grow up and stop the Chicken Little "Help, Hostile Foreign M&A!" whining every time a foreign outside shareholder asks, "May I have some more dividends, please?" Frankly speaking, it's unmanly.